Using the Online Store
We provide a range of online courses that support the development of your asset management expertise. It's training that is fast, effective and provides real results.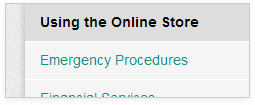 1. Browse for courses
All courses are separated into categories to make it easier to find what you need. Simply select a category from the list to browse the available courses.
Need some assistance?
If you have any problems during the process, don't hesitate to contact us.